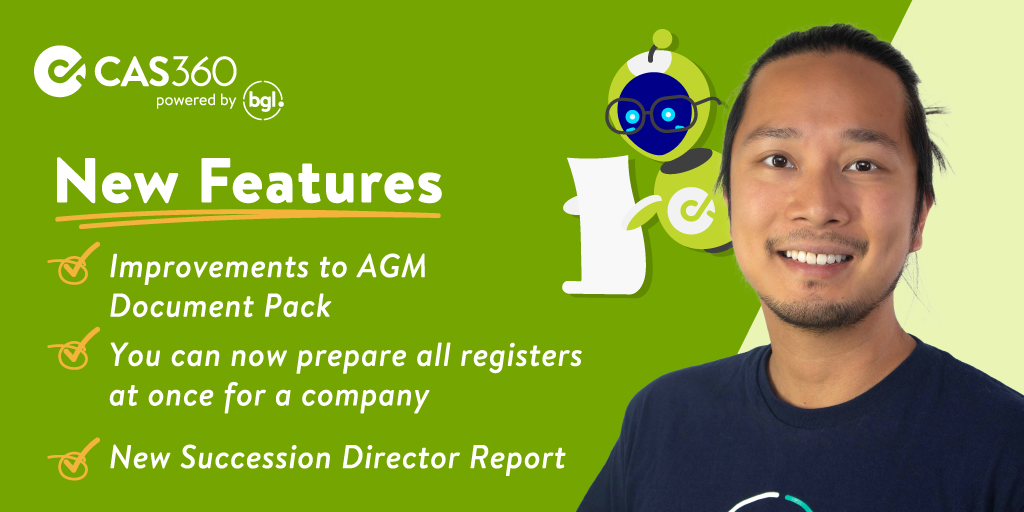 We are excited to announce the latest CAS 360 update!
Click here

to check out the full CAS 360 release notes.

Click here to join the conversation in the BGL Community.
What's new?
Annual Return Documentation: We have made more improvements to the AGM Document Pack. Below is a list of documents improved. Learn more 
Directors Meeting Minutes/Resolution

Members' Meeting Minutes/Resolution

Notice of Members' meeting

Members consent to short notice
Individual Compliance Report: The FIN and NRIC numbers will now appear under their own section of the Individual compliance report, and not under the heading "Other Identification Numbers". Learn more
Authorised Representatives: You can now select Authorised Representatives as signatories for documents for Singapore Foreign Branch Companies. Learn more
Full Company Register Set: We have added the ability for you to prepare all company registers in one single process. The full Company Register set can be exported for multiple companies at once, and can be customised so that you can include all the company registers that you need for export. Learn more

Succession Director Report: We have added a new report for a comprehensive overview of all companies directors, including their respective ages. The Succession Director report provides valuable insights into the approaching retirement of company directors, to facilitate effective succession planning. Learn more
New Users Walkthrough: We have developed a user-friendly guide that demonstrates all the support materials accessible for new CAS 360 users. Making the new user experience easier and smoother!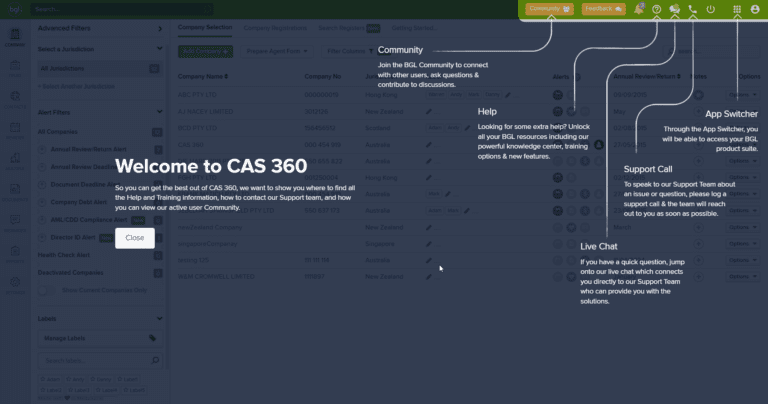 Remember to check out the full release notes on the CAS 360 Online Help and join the conversation in the BGL Community. Links to previous update release notes are below:
Stay tuned for future releases!