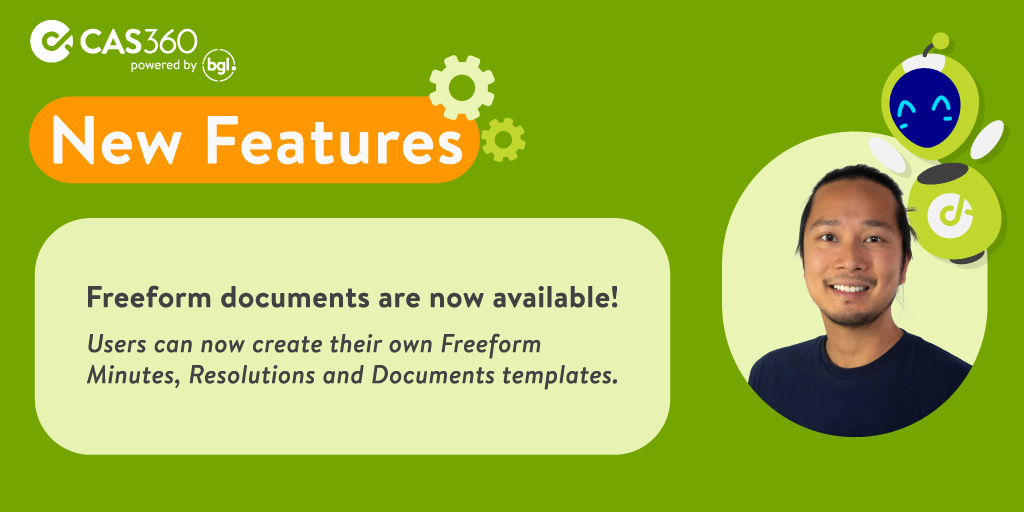 We are excited to announce the latest CAS 360 update!
What's new?
Freeform Documents: Clients can now create their own Freeform Minutes, Resolutions and Document templates in CAS 360!
Templates can be applied to any companies and trusts as needed. Templates can be prepared in the Document Production screen, emailed to clients and even digitally signed!
There is no limit to the number of freeform document templates that can be created. Clients can add multiple documents and prepare their own document pack.
Plus, all CAS 360 merge fields can be used in the templates to populate data from the database. Learn More
BGL will roll out more document types in future releases.
Charges: The Charges – Debenture Details screen now has new data fields, allowing clients to enter more information about the charges. Learn More
User Roles: There are two new user permission settings available in CAS 360 to provide you more control over company details:
Add/Edit Company Data: Activate the toggle to allow users to access edit and delete functions in all company data tabs. Toggle off to restrict access.

Prepare Company Documents: Activate the toggle to allow users to edit data in all tabs of the comparison report. Toggle off to restrict access. 
Shareholder Register: The shareholder/member registers template now supports merge fields for a shareholder's email address as well as a company guarantor's email address. Learn More
Plus, many more new features and improvements. Remember to check out the full release notes on the CAS 360 Online Help and join the conversation in the CAS 360 Community. Links to previous update release notes are below:
Stay tuned for future releases!