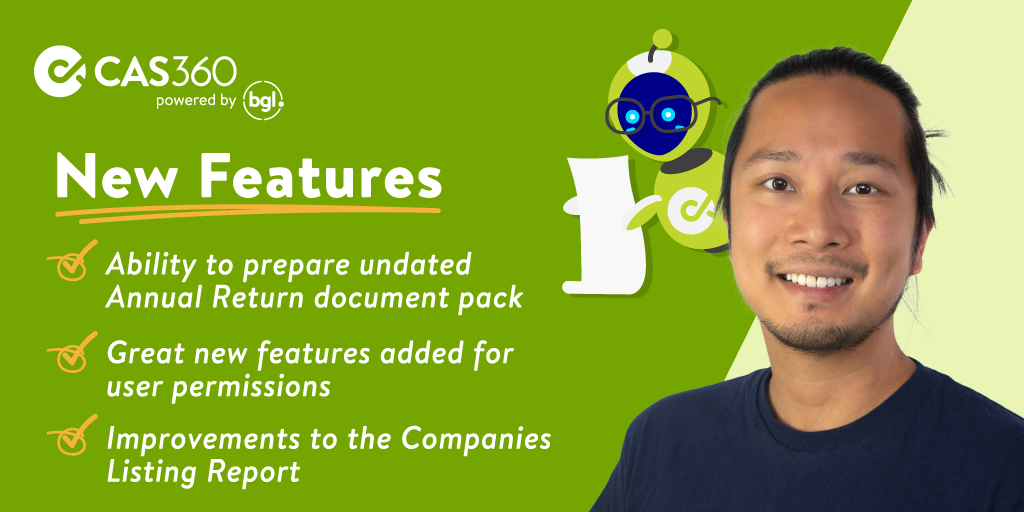 We are excited to announce the latest CAS 360 update!
What's new?
Annual Returns: Users can now prepare and send the Annual Return document pack without a document date. Simply switch on or off the new 'Leave document date blank?' toggle in Annual Return Settings. Learn More
Document Production: Updates have been made to several document options, ensuring that officeholding positions are accurately displayed when choosing a signatory from the 'document signatory' dropdowns. Learn More
Document Templates: Several new merge fields have been added to the Singapore Annual Return Document Template, including: 
Company Officeholder Address

Company Shareholder Address

Company Members Address
User Permissions: New user role settings have been added to allow or restrict user access to specific CAS 360 screens. If a user is denied access to a specific screen, the screen icon will no longer appear in the left-hand menu. Learn More
User Roles: New user role permissions have been added to allow or restrict user access to the Company Selection screen. This user role is ideal for firms who only want users to complete Company Registrations without the ability to view/change existing company details. CAS 360 account owners and administrators can turn on or off the ability for specific users to view the Company Selection page. These permissions are set in the User Role Screen. Learn More
BGL API: The CAS 360 API allows partners to retrieve all Company and Trust documents prepared in CAS 360. Now, any document not attached to a specific Company or Trust can also be retrieved via the CAS 360 API using the document ID. Learn More 
Companies Listing Report: Columns for 'Company Class' and 'Company SubClass' have been added to the Companies Listing Report. Note this change only applies to the Excel version of the report, not the PDF version. Learn More
People Group Report: When applicable, the 'Business Name cease date' will now be displayed in the business name section of the People Group Report. Learn More
Plus, many more new features and improvements. Remember to check out the full release notes on the CAS 360 Online Help and join the conversation in the CAS 360 Community. Links to previous update release notes are below:
Stay tuned for future releases!