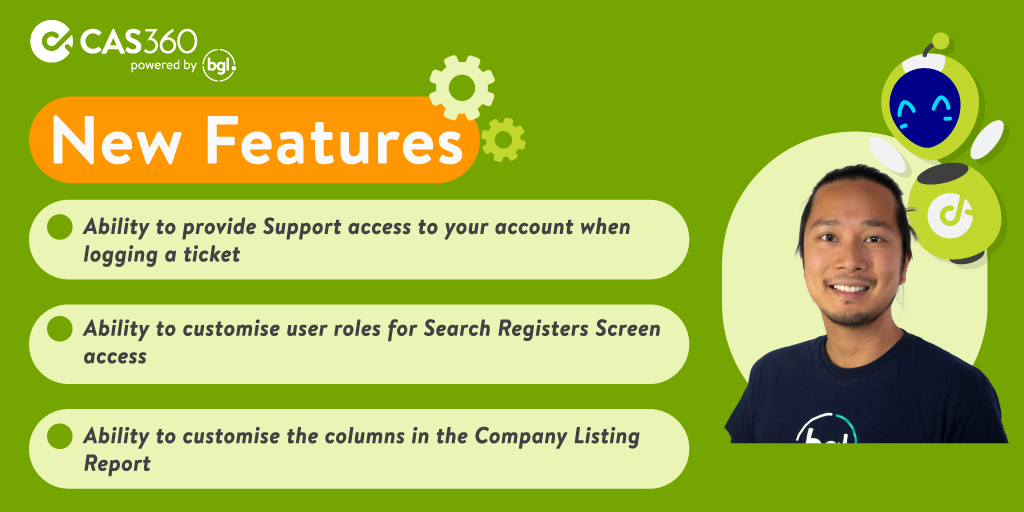 We are excited to announce the latest CAS 360 update!
What's new?
Software Support: Users can now choose to provide the BGL Support Team temporary access to their software when submitting a support ticket. This can help to get a faster response to your query. Learn More
Search Registers Screen: Administrators can now easily control which users can access the Search Registers screen by modifying user roles with customised permissions and granting or revoking access as needed. Learn More
Shareholders Screen: Users can now change a Balance transaction to a Subscription transaction through the new Change to Subscription drop-down in the Options menus. Learn More
Companies Listing Report: Users can now select columns for the new Docx Companies Listing Report template with new merge fields. Learn More
Documents Review Screen: The Documents Review user interface has been enhanced to support long file names. File names will be automatically shortened to fit the display, but users can hover their mouse over the file name to see its full name. Learn More
Email Settings: Significant back-end enhancements have been made to the custom email feature including improved authentication and verification when using DomainKey Identified Mail (DKIM). Learn More
BGL API: The Shareholders Holders API now allows shareholders to be extracted on a specific date. Learn More
Plus, many more new features and improvements. Remember to check out the full release notes on the CAS 360 Online Help and join the conversation in the CAS 360 Community. Links to previous update release notes are below:
Stay tuned for future releases!