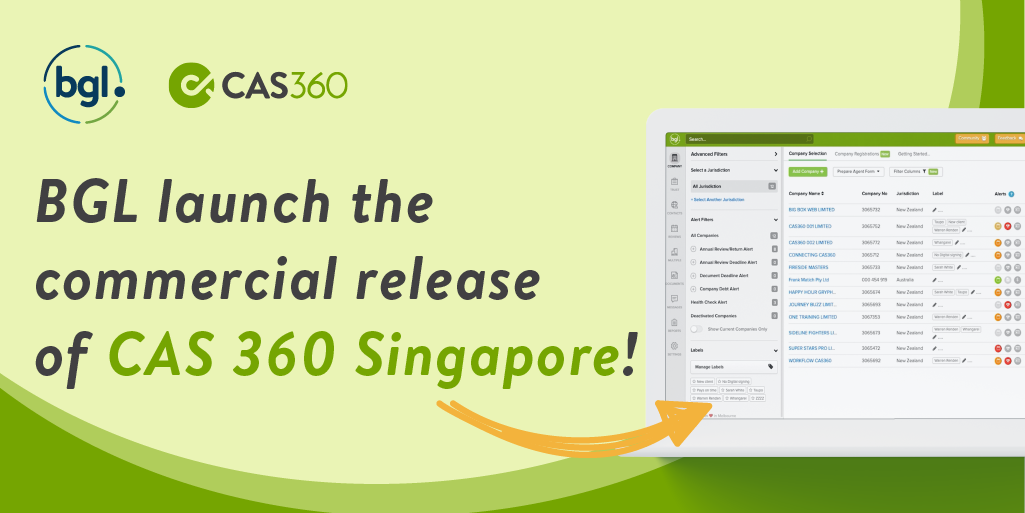 BGL launches innovative company secretarial software solution in Singapore, CAS 360
BGL Corporate Solutions, one of the world's leading providers of compliance management software, is proud to announce the highly anticipated commercial release of its company secretarial software solution in Singapore, CAS 360. 
"This is a huge milestone for BGL and I'm extremely proud of the CAS 360 team" said Ron Lesh, BGL's Managing Director. "The team has been working tirelessly over the past 5 years to develop CAS 360 Singapore and we're excited to be able to release a sensational product to the Singapore market". 
BGL has had a presence in Singapore for over 20 years, with over 400 businesses using its market-leading Corporate Affairs System (CAS) desktop software. CAS 360 is the natural progression for our clients, and we've already had a great deal of interest with over 31,000 active companies added to the BETA since April 2021. 
"CAS 360 will help accounting firms and corporate service providers in Singapore efficiently manage their company compliance for Singapore entities with its innovative technology and superior automation" continued Lesh. "CAS 360 prepares all the forms, minutes / resolutions, registers and other documents required for the Annual Return and common changes made by Singapore companies. CAS 360 also supports the Singapore XBRL for the preparation and automated electronic lodgement of XBRL Financial Statements". 
"BGL worked with Singapore's Accounting and Corporate Regulatory Authority (ACRA) to help make the Singapore electronic filing system work for software providers," added Lesh. "BGL is proud to be the first company secretarial software provider approved by ACRA to lodge Company Annual Returns electronically in Singapore."
CAS 360 is the complete package and will provide the same incredible efficiencies for our Singapore clients as it does for 650,000+ companies in Australia and New Zealand. CAS 360, Hong Kong is due for release to BETA in Quarter 3, 2022.